Safety and service: third phase of construction completed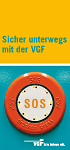 At VGF we're making every effort to improve safety and service in our underground stations and at our tram stops. That's why in the third phase of our 'Safety and service' project, we've equipped another 16 locations with video cameras and emergency and information points. The cost of acquiring and installing a total of 72 new cameras and 31 emergency and information points is around €1.2 million.
You're safe with us
Well-trained staff and the latest technology will make sure that you feel safe on our buses and trains, in our stations and at our stops. VGF's Safety and Service project focuses on improving safety on our network. This project involves equipping underground stations with video cameras and emergency and information points so that passengers can call for help more quickly. Since 2006 the hub of activities has been our Safety and Service Centre, the most modern of its kind in Germany. Staff here manage our security cameras around the clock, handle emergency calls and information requests, and coordinate deployment of our security service.
On the following pages you'll find lots of information about our safety features and our multistage safety strategy.
Key emergency numbers at a glance:
Police: 110
Fire brigade: 112
Safety and Service Centre +49 (0)69 2132 2708
Safety and service point (Hauptwache): +49 (0)69 2132 4711
Information brochure (German)
Information brochure (English)
Telephone card
Radio commercials about safety and service