Vigilant against vandalism
We want our passengers to be happy, so we've made a big effort to prosecute all those committing acts of vandalism in recent years. Wanton destruction will inevitably lead to civil and criminal proceedings.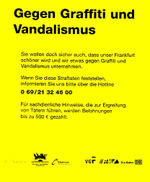 Anyone who provides us with information that leads to the successful prosecution of vandals will receive a reward of up to €500.
If you have any information, please call us on +49 (0)69 2132 4600 (available 24 hours) or fax us on +49 (0)69 2132 3551. You can also immediately report any incidents that you've witnessed to our staff using the emergency phones in the carriages. And you can of course also speak to any member of our security staff at the stations or in the carriages.
Vandalised equipment is expensive to repair. Often we're unable to restore them to their original condition and they remain permanently defaced. But it's even worse for passengers who depend on all our facilities working properly, such as people with reduced mobility or parents with prams who need escalators and lifts to be in good working order. That's why we need YOUR help to catch the perpetrators of these serious crimes.