VGF infrastructure services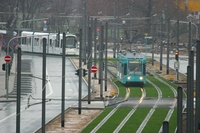 VGF's infrastructure division is responsible for keeping local transport in Frankfurt on the move. We ensure that the underground trains, trams and buses all run smoothly, looking after everything from planning to construction and maintenance of routes, stops and stations, the power supply to tracks, stations and construction sites, signalling technology and operations management.
We plan, build and administer routes, stops, stations, tunnels and buildings
We equip stops and stations and ensure that they're easy for passengers to use
We maintain escalators, lifts, power supplies and lighting and signalling equipment
We build and maintain tracks
We ensure that overall traffic management is efficient
We plan, build and maintain radio and loudspeaker equipment, points systems and ticket machines.
If you'd like more information or are interested in the services that we offer, please get in touch.
Contact:
Jürgen Tiesler
Verkehrsgesellschaft Frankfurt am Main mbH
Kurt-Schumacher-Str. 8
60311 Frankfurt am Main, Germany
Tel. +49 (0)69 213-22471
Fax +49 (0)69 213-25103
j.tiesler(at)vgf-ffm.de