VGF local train workshops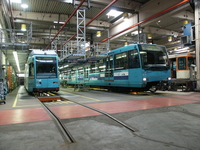 Our services for track vehicles are
certified in accordance with DIN EN ISO 9001:2015 and EN 15085-2 standards.
VGF local train workshops offer a complete range of technical services for track vehicles used in local public transport, including consultancy, planning, construction supervision, assembly and installation.
Our central local train workshop is the hub of our activities. We have two tracks for accident repairs, eight tracks for vehicle modifications, eight tracks for maintenance and repairs, three tracks for paint preparation and two tracks for repairs to fibreglass-reinforced composite materials. We also have a 22,000 sq m circuit for test operations.
We can offer you the following services:
Component repairs:
– Processing and fitting of TYP B054/BO84 tyres
– hydraulic brake components
– Pressure testing – Adjustments and measurements to loaded bogies
– DUEWAG folding doors and door controls
– Mechanical switchgear
– Painting of track vehicles and components
– Vehicle repairs (especially gear hub drives)
Accident repairs
Manufacture of special parts
Vehicle modifications
Maintenance and repair of track vehicle equipment on dual-mode vehicles
Painting of components and vehicles
Screen printing and foil lettering
Engineering for local public transport and regional rail transport:
– Support in preparing performance specifications for track vehicles
– Assessment of old vehicles
– Preparation of workshop programmes
– Alternative designs for renovation and modernisation
– Hire of test circuit for commissioning vehicles (standard gauge)
Are you interested in our services or do you have any questions?
Please contact
Marco Wissel (qualified engineer)
Verkehrsgesellschaft Frankfurt am Main mbH
Local train workshops
Heerstrasse 305
60488 Frankfurt am Main, Germany
m.wissel(at)vgf-ffm.de